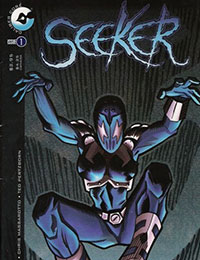 LeAnn Heywood is the world's current Seeker, a 'superhero' if you will assigned to a special task force whose goal is to take on criminals, corrupt corporations, and terrorists cells where ever they may be. But there is a former Seeker, Tracy LeMaster who is locked up in a mental hospital because obviously, her story of being an incarnate of an ancient Atlantean force that enhabits the Seeker host body couldn't possibly be true. But as LeAnn carries out her duties as Seeker, a new recuit, Maxine Brasura, is unknowingly in training to become a Seeker herself. Seeker. Some say she is an assassin, some claim her as a hero. She is a figure of mystery that seemingly moves within the shadows to exact her vengeance. She is also an operative for a special government task force unit and the Seeker persona has come out of the shadows to become a popular icon for the American public. A woman who wears the mantle of Seeker proudly for she understands that she is Seeker and Seeker is her. But she's wrong. Before her there was another Seeker...and before that...yet another...and another. There has always been a Seeker. They may look different. They may "serve" different masters...but the role of Seeker goes beyond current day government, goes beyond operatives against other operatives. The legacy of Seeker goes into the fabled past of a land that most don't believe exists.
Please do NOT spoil content of NEXT issues
[Report spoiler]
. Do not spam or link to other comic sites.