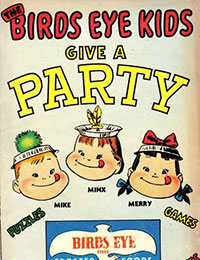 While these days most associated with superheroes and mutants, Marvel (under it's various titles) has printed at one time just about every genre to be had in comics, from funny animals (they had Mighty Mouse in the 40's,) to horror.
Here is an example of Marvel's foray into product comics, you know… like the Big Boy, or Buster Brown Shoes, or Tom Mix and Ralston Purina.
It seem from 1957 to 1958 Martin Goodman produced The Birdseye Kids for the frozen food giant.
I wonder if Stan Lee worked on these?
Mike, Minx and Marry do kind of look like mutants if you ask me, I mean look at # 4… their eyes are black with white X's in them!
Please do NOT spoil content of NEXT issues
[Report spoiler]
. Do not spam or link to other comic sites.